Here is what we got up to cruising the world in 2009!
Cruising in 2009!! New Years Eve – Patong Beach, Phuket, Thailand.
20th – 31st December – Phuket, & The Similan Islands, Thailand!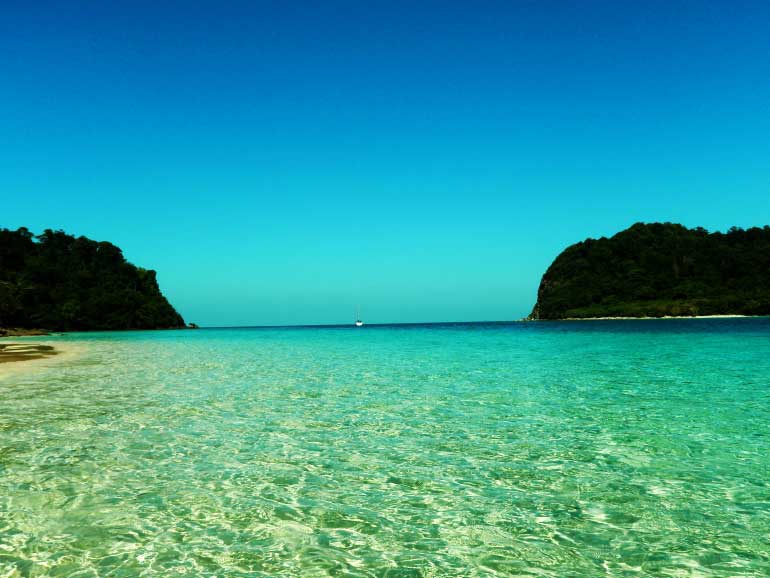 A picture perfect tropical beach, Ko Rok Nok.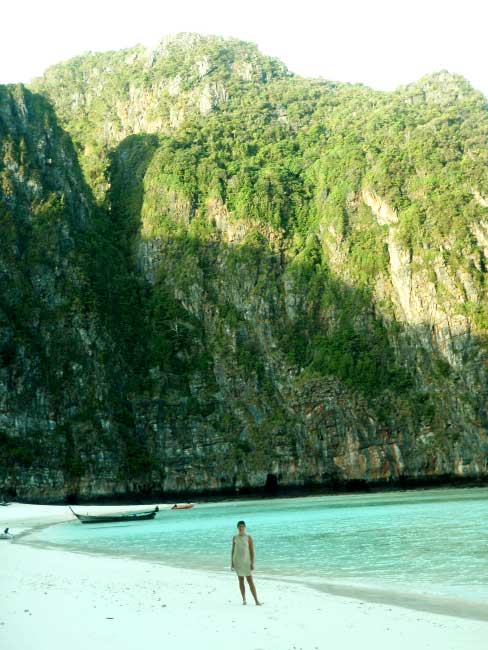 One of the many beautiful views around Thailand, The Landscape is towering around Maya Bay, Phi Phi Le .
Mark looks tiny looking at the cliffs around the beach at Phi Phi Le.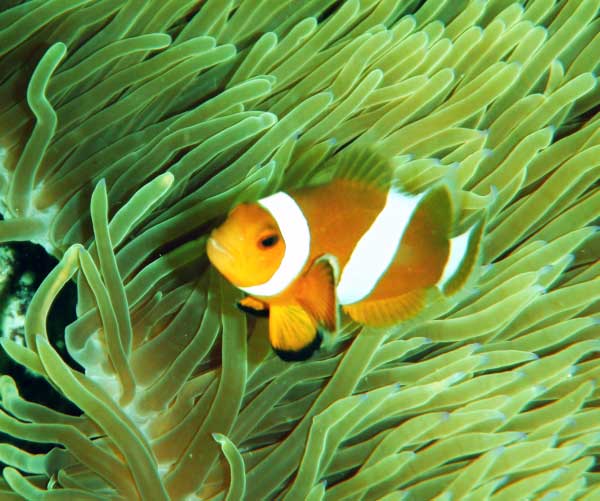 We found Nemo at Ko Rok Nok, Thailand, while practising our underwater photography .
28th November – 13th December 2009 – Langkawi, Malaysia.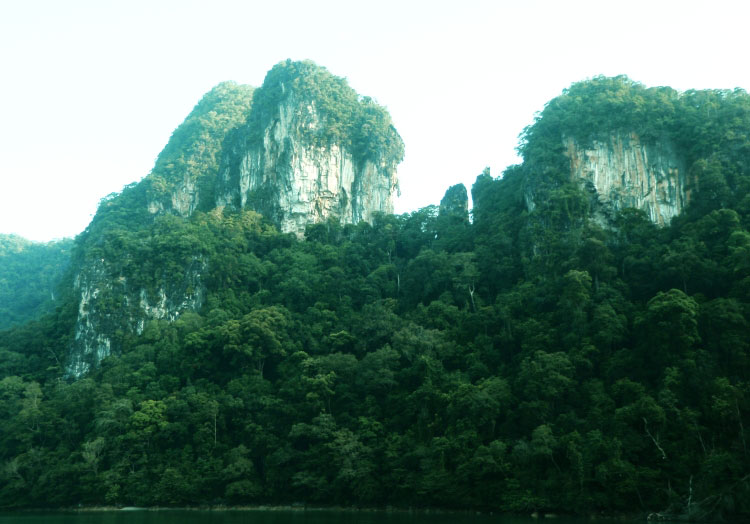 One of the many beautiful views around Langkawi.
24th November – We arrived to the beautiful island of langkawi. We hav e spent the past few days relaxing around Singa Besar & Pulau Dayang Bunting. It is so peaceful, beautiful and the scenery is just breathtaking. We love it here! We have been swimming to keep cool in this hot, hot weather. We had a dip in the lovely Lake of the pregnant maiden which is a large fresh water lake with beautiful mountains around it. The town of Kuah is a very cute little tourist town, very nice.
21st -24th November, Penang, Malaysia!
18th November 2009- After about 9 weeks we left Danga Bay, Johor Bahru, Malaysia today headed for historical Penang!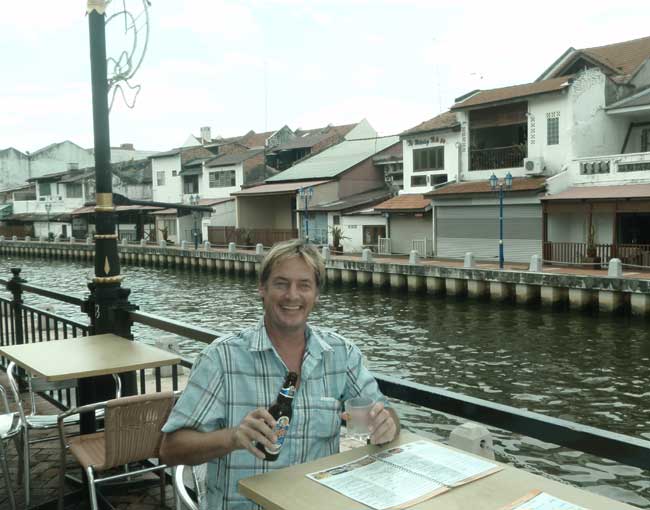 10th – 13th November. We took a few days holiday by land and took a bus trip to Malacca and then onto Kaula Lumpur which was lots of fun. We even stayed in a hotel that had a bath, we enjoyed many hot baths during our little holiday, it was wonderful!
Mark enjoying a cold beer at a lovely outdoor cafe right on the river in Malacca.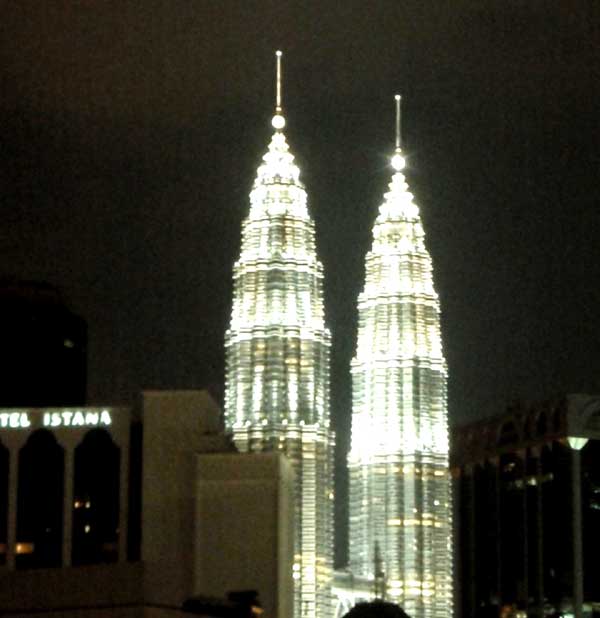 The sparkling Twin Towers of Kaula Lumpur at night, very pretty.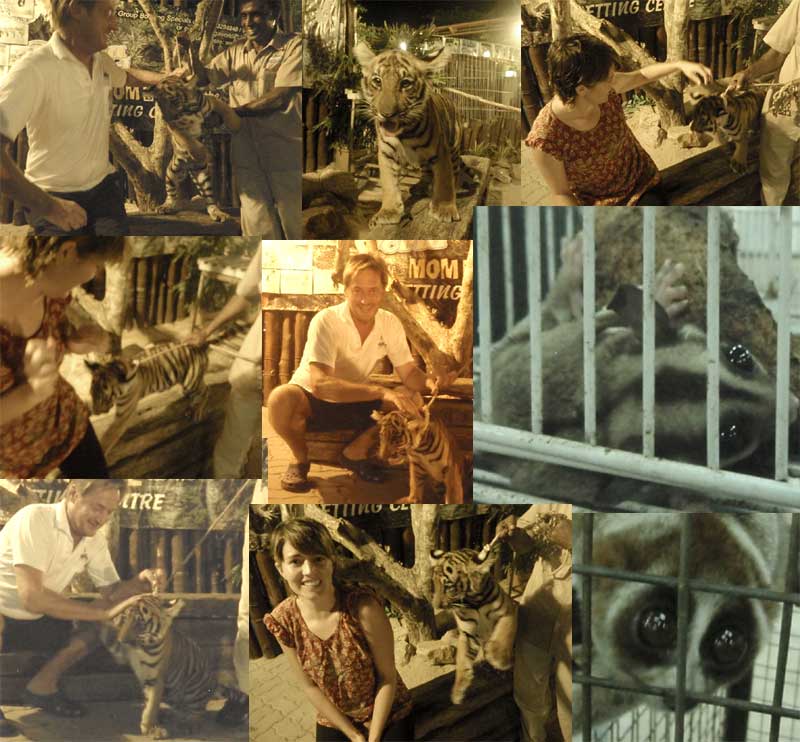 We got to play with a 4 month old baby tiger at the petting zoo, we also saw some cute little Australian Sugar Gliders and a very cute little furry thing with big eyes which we are not sure what it is.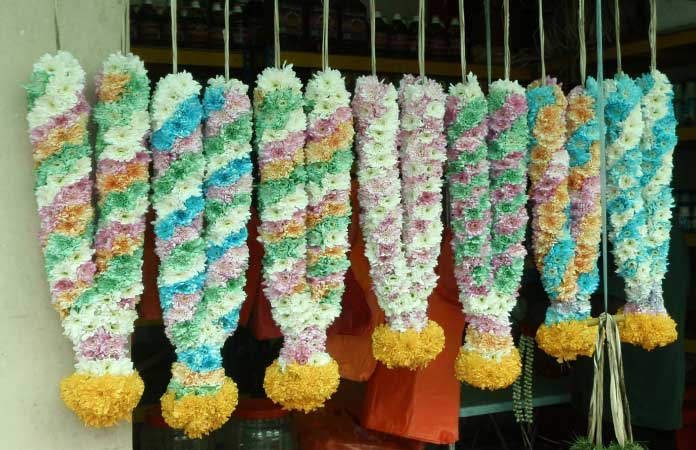 Beautiful flowers in Little India for the temples, Johor Bahru, Malaysia.
Downtown local Johor Bahru, Malaysia.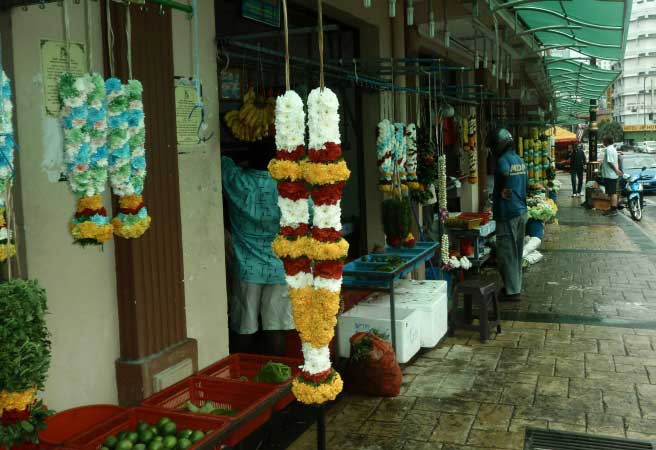 Little India in Downtown local Johor Bahru, Malaysia.
11th -13th September 2009 – Singapore!!!! Changi Sailing Club & Shopping at the famous Sim Lim Square!
We have arrived in Malaysia after crossing the Singapore Straits. The Straits were amazing, lots and lots of HUGE ships, barges with tugs and all sorts of traffic. YAY! We have crossed one of the busiest shipping channels in the WORLD!!!!! So after a 5 day direct passage from Indonesia, it is now time for us to relax and enjoy Malaysia:) 8th September 2009
1-2 September 2009 We went on a 2 day river cruise to see the beautiful wild Orangutans of Kumai. They were just amazing, so interesting to watch, so cute – yet strong and powerful. A once in a lifetime experience!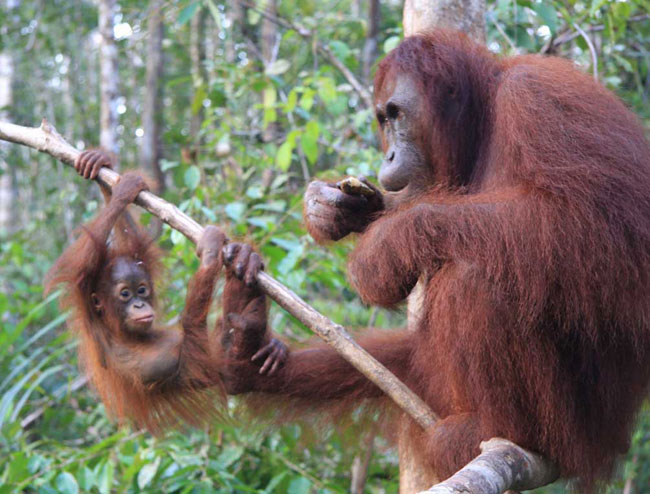 A lovely mummy Orangutan with her little baby, very cute!
27 August – 4th September 2009 – Kumai, Central Kalimantan, Indonesia!
20th -27th August 2009 – Bali, Indonesia!
12th – 13th August 2009 – Komodo Island, Indonesia!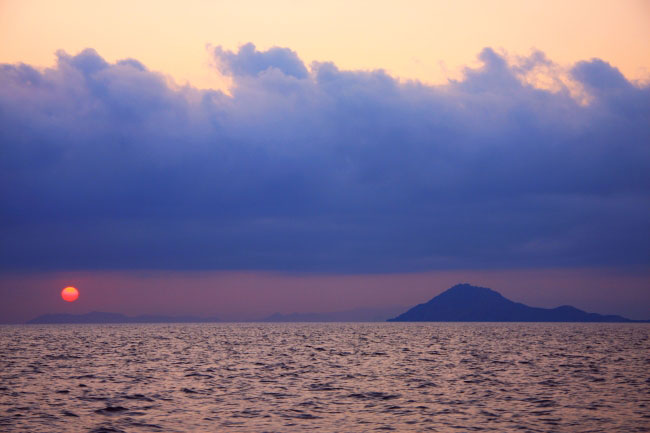 A glorious red sunrise in Asia – Komodo Island, Indonesia.
4th – 7th August 2009 – Ambon, Indonesia!
30th July – 3rd August 2009 – Banda, Indonesia!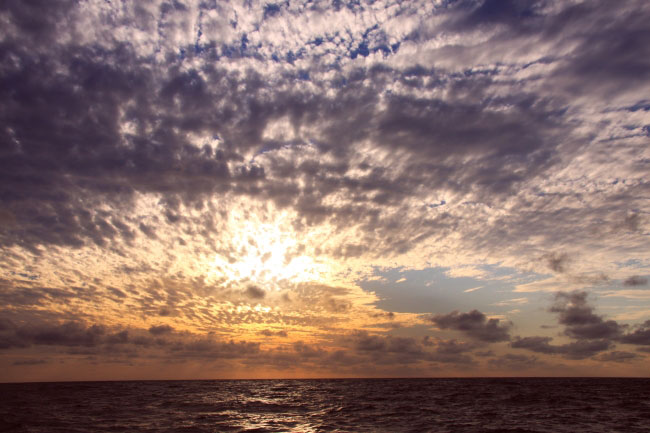 25th – 28th July 2009 – Tual, Indonesia!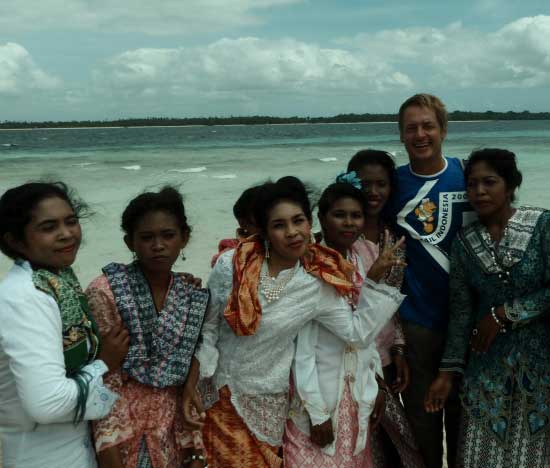 Mark made some new friends on a beautiful Indonesian Island.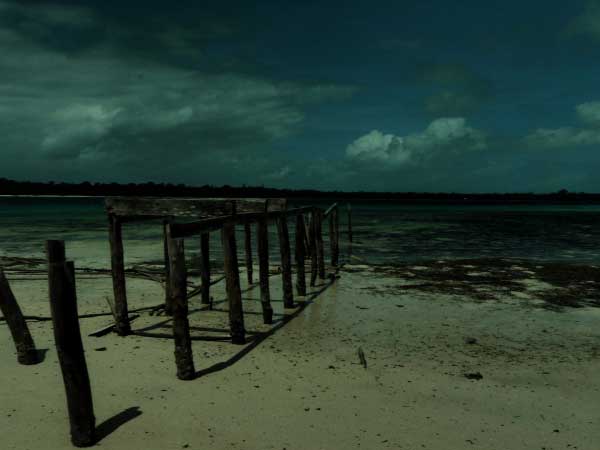 Beautiful view from traditional beach village in Tual.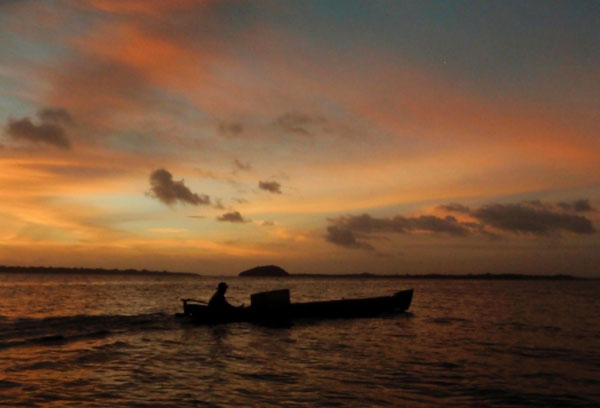 Local fisherman at sunset.
20th – 22nd July 2009 – Saumlaki, Indonesia!
18th July – We are leaving for Indonesia today! YAY, we are so excited and cannot wait to see all of the wonderful places in Indonesia we will be visiting.
30th June- 18th July 2009 Fannie Bay, Darwin, Northern Territory, Australia!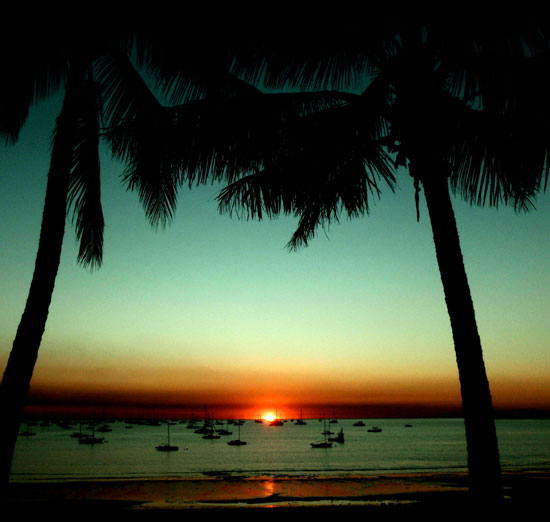 A gorgeous sunset in Fannie Bay Darwin.
6th May – 20th June 2009 – Lizard Island & Ribbon Reef#10 (The Cod Hole),The Great Barrier Reef, Queensland's Coral Coast, Australia!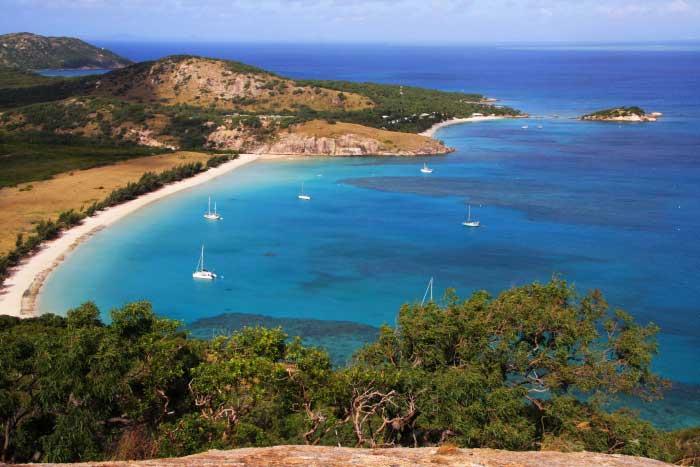 The beautiful paradise called Lizard Island, we just love it! We stayed there for 6 weeks and had the most wonderful time.
3rd May 2009- Port Douglas, The Great Barrier Reef, Queensland's Coral Coast, Australia!
22nd April 2009- 2nd May 2009 -Cairns, The Great Barrier Reef, Queensland's Coral Coast, Australia!
What a beautiful port Cairns is! We have enjoyed our 3 weeks in this tropical paradise. We took the train to Kuranda and saw beautiful waterfalls, then got the skyrail back which was amazing to see the rainforest from above. We took a lovely walk along the Barron River and went to the fabulous Australian Butterfly Sanctuary, where we saw the famous Cairns Birdwing & The Ulysses Butterfly amongst many other gorgeous species.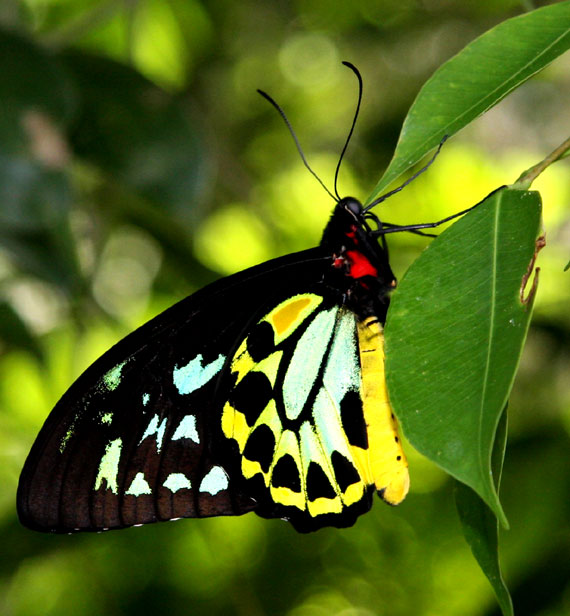 The beautiful Cairns Birdwing Butterfly (Mark took this excellent photo!)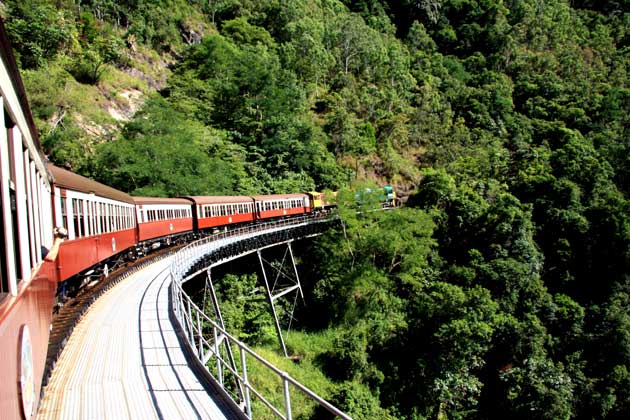 The historic Kuranda Train underway in Cairns
19th April 2009 – We are having an amazing time in beautiful Cairns. I went to Perth and on the way stopped off and saw the famous Uluru. Now getting our provisions and a few things for Sea Life in Cairns and enjoying the tropics for another week or so. Then going to continue to explore the beautiful Great Barrier reef over the next month or two. The weather is beautiful!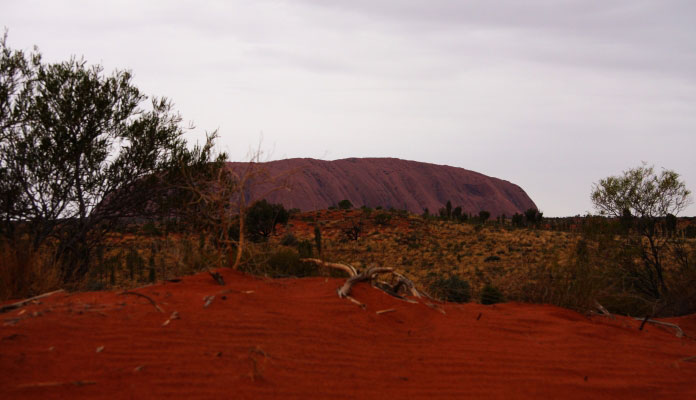 The beautiful Uluru in the centre of Australia
11th April 2009 – Fitzroy Island,The Great Barrier Reef, Queensland's Coral Coast, Australia!
Friday 10th April 2009! What a wonderful year we have had! Today marks the anniversary of the first year of cruising around the world aboard Sea Life.Since this time last year we have sailed over 13,136 nautical miles at sea, done the famous panama canal, crossed the vast Pacific Ocean, and travelled from the Caribbean to Australia. We have survived strong winds, squalls, a cyclone and above all we have discovered so much about what we can do, how strong we really can be in challenging times and how wonderful the world truly is!
It has been a year of adventures including, climbing mountains, snorkelling in crystal clear waters, swimming with wild Galapagos Sea Lions, beautiful sunrises and sunsets, beautiful passages at sea, spotting turtles, having encounters with wild birds, dolphins, whales and seeing animals and nature as it really is. It has been the most rewarding, exciting and happy year of our lives, we have made so many wonderful new friends from all around the world, we have learned so much about about different countries, their cultures, history, people and animals. So many wonderful experiences and stories to treasure in our heart forever.We look forward to the many, many more wonderful cruising adventures and years of cruising we have ahead!
7-10th April 2009 – Dunk Island, The Great Barrier Reef, Queensland's Coral Coast, Australia!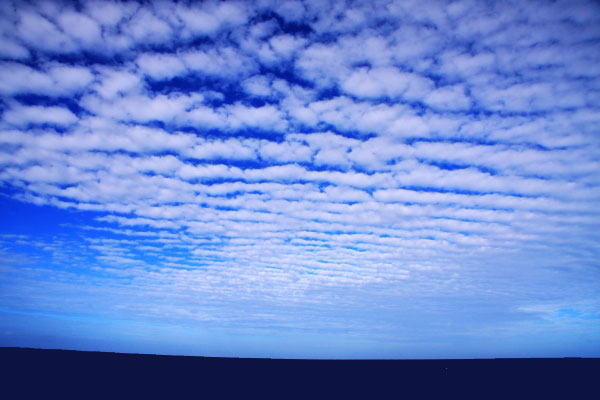 Here is a photo taken at sea on the way to Dunk Island, beautiful sky and clouds!
March 2009 The Whitsunday's, Queensland's Coral Coast, Australia!
1st April 2009- We have been enjoying the glorious Whitsunday's for over a month now. The weather this week is just wonderful, light winds and beautiful sunshine. We are enjoying our favorite spot Blue Pearl Bay for a few days and then catching up with our lovely friends from Sydney on Saturday for a picnic cruise on Sea Life. Happy days of beautiful weather and fantastic snorkelling!!!
6-9th March 2009 – Severe Tropical Cyclone Hamish – Category 5 cyclone – Hayman Island, The Whitsunday's, Queensland, Australia. We survived our first (and we hope last!!!) cyclone, anchored in a cyclone hole aboard Sea Life battling through the gale force winds for over 20 hours without sleep….we were lucky….we are safe, Sea life is safe and we didn't get the eye of the cyclone going over us, but rather an outer circle.It was hard work, but we did our best and got through it all with a laugh and a smile!
19th February 2009 – Lady Musgrave Island Lagoon, The Southern Great Barrier Reef, Queensland Australia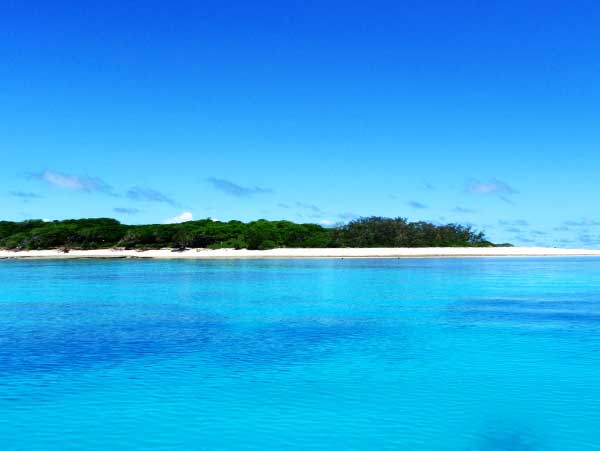 The beautiful coral loagoon – Lady Musgrave Island, Queensland Coral Coast.
We had an amazing time at the beautiful Lady Musgrave. It is one of the first coral areas of the (Southern) Great Barrier Reef. We sailed in on a glorious morning with the dolphins, turtles and sea snakes welcoming us to this beautiful part of the world. It was the most amazing experience to be totally surrounded by a coral lagoon, with a circled wall of breaking waves around us, protecting us from the open ocean swell. Inside the coral wall was calm and peaceful, like a magical paradise. We had lovely weather which made the experience just perfect. We also saw the hundreds upon hundreds of birds nesting ashore.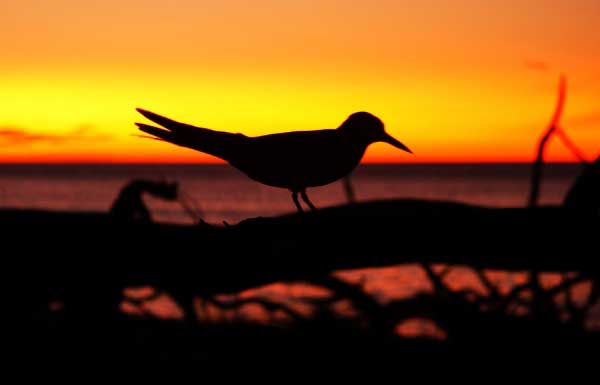 A bird at sunset on Lady Musgrave Island.
We were lucky enough to see the gorgeous, tiny, little baby turtles hatch and make their way down the beach to the ocean. They were just so perfect, tiny little versions of their mummy's and daddy's. They were so small they were about less than half the size of our hands. We also saw the beautiful much larger mummy turtles coming ashore to lay their eggs in the sand.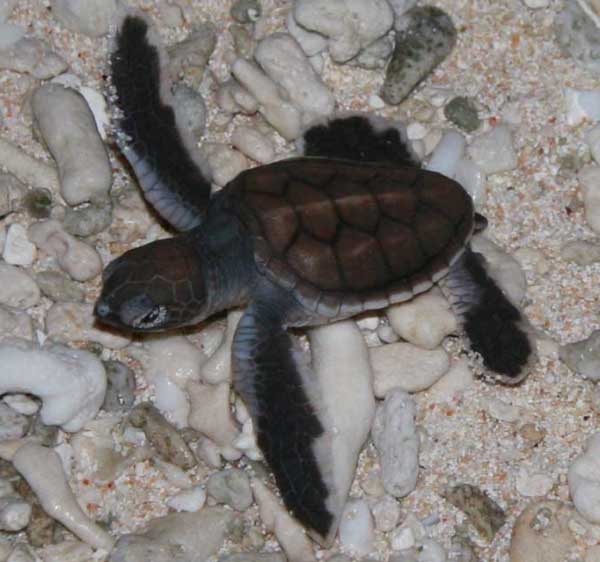 A baby turtle hatchling on Lady Musgrave Island February 2009.
They were so big and graceful. It was so amazing to see the complete circle of life of the turtles. From the vulnerable and tiny babies rushing down the beach to the water and the mummy laying the next batch of babies who will soon be having the same trials right after birth of trying to make it through their first night in the big, dark ocean. Sadly we saw lots of predators waiting to take advantage of the tiny babies, including sharks waiting in the shallow water, crabs and seagulls. It was very sad, but it is nature and at least we had comfort knowing that their would be babies that survived to be as old and beautiful as the large mummy turtles we saw. We felt very privileged to be able to see this wonderful miracle of nature
Early February 2009 – Bundaberg (The home of the famous Bundaberg Rum, Bundaberg Ginger Beer and Bundaberg Sugar), Queensland, Australia!
You have to make a home brew up in Bundaberg!!! Mark made his first batch of beer aboard, we had lots of fun, especially Mark. Now he has to wait a few weeks for it to be ready to drink on a beautiful afternoon on deck at sunset.
Mark is very happy making beer!!!.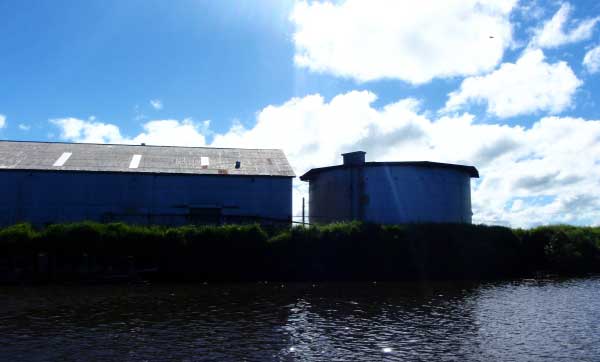 Bundaberg, Queensland, a lovely river.
Early February 2009 – Fraser Island, The Great Sandy Strait, Queensland, Australia!
Tin Can Bay – We have had huge flocks of wild Lorikeets fly over Sea Life each morning and afternoon. This morning we had the treat of hand feeding a rare wild Indo Pacific Humpback dolphin 5.2.09.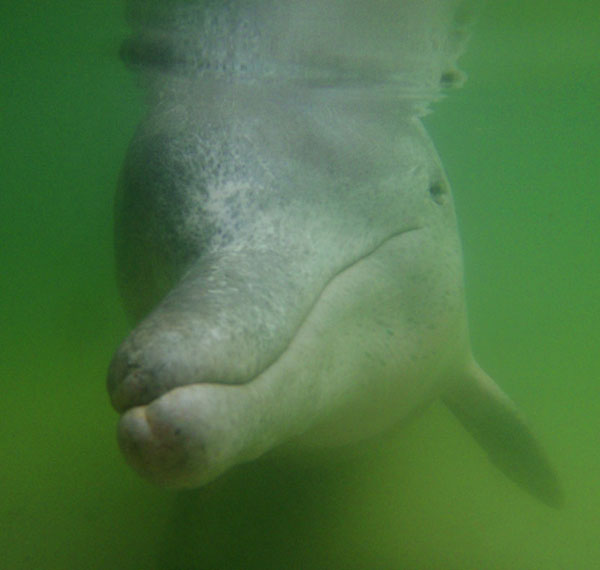 We got really close to him and he came really close up to us to say hello a few times….just beautiful.
The Indo Pacific Humpbacks are only found in rivers, not in the open ocean so they are very special and quiet rare, they are also found in the Amazon too (sometimes known as pink dolphins).
Southport, Surfers Paradise – The Gold Coast (sunny) Queensland, Australia!
HAPPY AUSTRALIA DAY!!!! Monday 26th January 2009. Aussie, Aussie, oi,oi,oi…..We are off the enjoy our happy Australia day to celecbrate what a wonderful country we have in Surfers Paradise, a day of swimming at the beautiful beach, some fish and chips….and watch the celebrations on the Gold Coast….how wonderful!
A gorgeous sunset at Sufers Paradise, The Gold Coast, Queensland.
We had the most amazing sail to the sunny and very beautiful Gold Coast, yay….we are now in Queensland where the weather is glorious and warm! Surfers Paradise is just lovely, very coastal, warm and relaxed….we love it! And we are going to have a fantastic time in a true holiday city…we are even going to Sea world to say hello to the dolphins and Sea Lions……wooohoooo!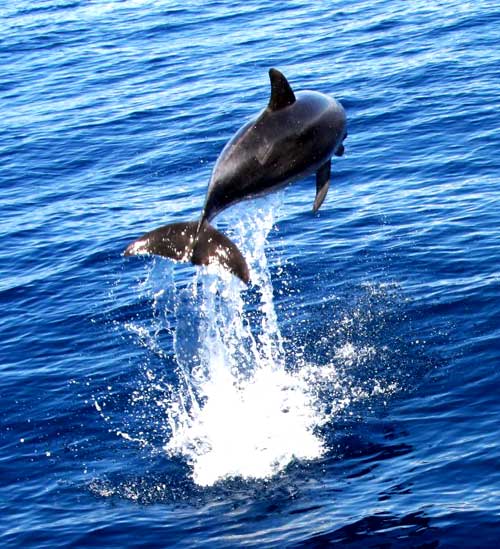 Gorgeous dolphins at sea taken from Sea Life, we saw 9 different pods along the NSW coast it was wonderful!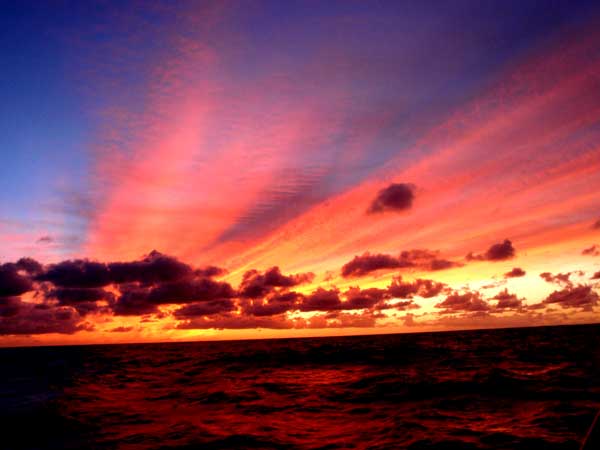 A beautiful sunset on the sail to Surfers Paradise
Camden Haven New South Wales Coast, Australia! Happy New Cruising Year! Camden Haven is just beautiful! It is the perfect example of an little Aussie coastal community, friendly locals who love a chat, beautiful coastal landscape with everything you need close by and great food! We are having the most relaxing and peaceful time in this little paradise.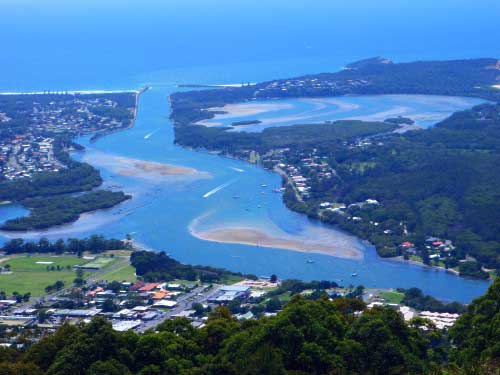 Today we walked 4 km up the huge Big Brother mountain and back, it was very steep and went from bushland into beautiful lush rainforest, and then had the most amazing view of Camden Haven at the top. In the above photo you can see Sea Life at anchor near another boat, near a large patch of sand. It was hard work, but wonderful! 6.01.09.
FOR MORE PHOTOS & TO SEE OUR CRUISING FROM THE PREVIOUS YEAR, SEE OUR 2008 PAGE!