Pirates in Gulf of Aden, Somalia 2010
The panicked voice of a ships captain isn't often heard on the VHF and just outside the Red Sea in the Gulf of Aden it wavered again: "ANY Coalition warship this is Mrs'k C. I have a skiff attempting to board on my port side. Position 24…" Again the position was garbled. Even a ships captain makes the mistake of not giving the Lat and Lon slowly and clearly. "Say again Position" I ask but without response. That I can hear him at all means we're close as our VHF aerial was Deep Sixed in a storm. 12 hours ago we left our convoy outside Aden and we were alone heading into the narrow entrance of the Red Sea on direct passage to Egypt. Its after sunset but before dark, the most dangerous time for pirate attacks and just precious minutes till we are safely enveloped in the night. My Fiancé, Nicolle and I are scanning the 3 ships in sight. One appears stopped, another we see the name on the side, but that's not Mrs'k its Maersek. It's a gigantic, brand new container ship completely devoid of containers except for 10 grey ones up front. Its so high out of the water the bow waves is shooting vertically 20 meters high. The stern is actually setting lower like a speedboat.
It is 500 meters to port of us and heading North too, the letters Maeresk so huge they drum into our brains: Mr'sk is Maeresk?
"ANY Coalition warship this is Maeresk C the skiff is coming under our stern!" This captain is almost pleading now. His emotion palpable over the radio.
Well if it's the ship right next to us and the skiff was to its port side and now at its stern I should be able to see it. Lifting the binoculars I take one glance at the stern now just ahead of us and there is an ant at the foot of a goliath. But so clearly, distinctly, visible under the sheets of water pumped from the container ships fire hoses that I can see the 6 men standing in the skiff looking at the ship. Not looking at us. With no sails up we're harder to see.
Action Stations" I scream as I spin the wheel for a reciprocal course slamming the throttle to its stops, seeing 3,300 rpm for the first time. Nicolle shoots below and locks the hatches starting her well rehearsed and practiced routine as I prepare my bag of 'goodies'. We might be unarmed but Sea Life is definitely not undefended! The Yanmar is throwing its full 56 horses directly into the 25kt wind and chop and giving our Beneteau 393 sailing yacht more than 7 knots. VHF: "…Meresk… stopped…" Unreadable, then transmission stopped.
Nicolle's job below is communications and her satellite call to UKMTO has the same format as a radio Mayday. Her information is the first received, clearly and quickly given and then the Coalition swings into action. Minutes later they ring back after calling the ship captain who says the attack stopped – not the ship stopped - and the skiff headed towards the Yemini coast. It would have gone straight passed us if we hadn't reacted and turned back the other way. They sighted no guns or boarding ladders but the skiff had definitely been harassing them. The ship had increased speed to 25 knots(!!) but the skiff was doing 26, the Captain said. The guns could have been under the fishing nets. The Captain thinks it was a people smuggling skiff because of its speed.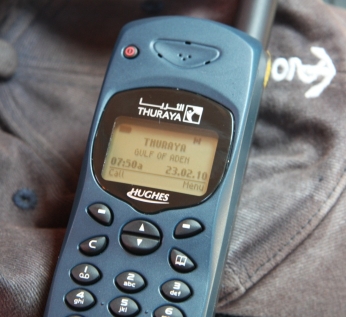 The incident didn't even rate a pin in the Live Piracy Report. These incidents must be much more frequent that I'd previously thought. Now under the cover of darkness we turned back on course and headed into the safety of the Red Sea and the comfort of 30 knots tail wind.
We didn't celebrate our arrival in the safety of the Red Sea as planned. My mouth felt like it swirled with dust. We had looked in the Devils eyes. But we couldn't laugh.
* * * *
It started 2 years and 22,000 miles ago when we bought Sea Life in the Caribbean with people saying to watch out for pirates. We had thought to transit the Gulf of Aden from Salalah, Oman with 4 or 5 like minded boats down the Internationally Recognised Transit Corridor (IRTC), by low visible motoring daytime and sailing nights, keeping close formation and aggressively defending attackers. However we couldn't find anyone else willing.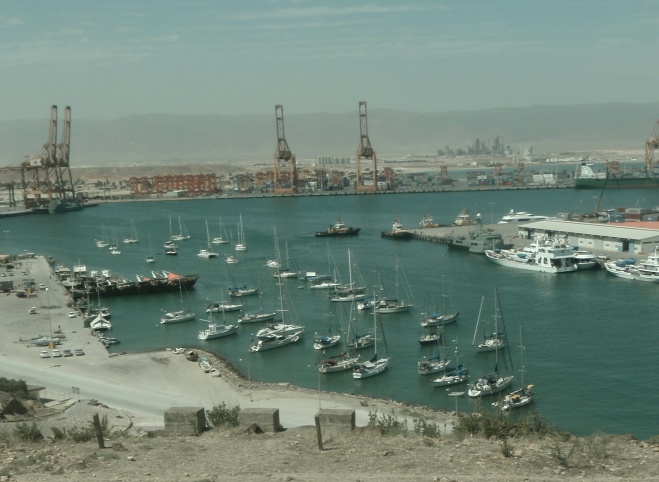 So we joined a well organised convoy of 26 yachts that left Salalah a few days after the Yemini Interior Minister survived an Al Queda assassination attempt to sail 10 to 12 miles off the Yemini coast and often in their territorial waters. Coalition Warships and Helicopters are not allowed to enter Yemini Territorial waters*. Most on the convoy were not aware of this as far as I know. When one yacht was stopped by the Yemini Coastguard at night we quietly slipped away back into International Waters. Also on this convoy was Cruising Worlds Fatty and Carolyn Goodlander aboard "Wild Card". I'm hoping Fatty will write a report on this passage. His perspective will be interesting, more so because we haven't had the chance to chat since.
Coalition navies are assigned to either a designated portion of the 12 mile wide IRTC or to provide escorts along the IRTC. Its been pointed out to us by a navy intelligence officer on one of the actively patrolling ships that it is not likely a ship patrolling a designated portion of the IRTC would leave its section unguarded unless it was extreme circumstances. As we were approximately 50 miles from the IRTC, at the closest point a warship would take 2 hours to reach us, and a helicopter over half an hour. The conundrum is that being within the IRTC is no guarantee of safety as that's where most attacks occur. So where is best? In Yemin waters? In the IRTC? 5 miles buffer? 10 miles?
We left Salalah with 26 yachts in fine weather, no wind and contrary current, clearing out saying to all on the open VHF our destination. Sea Life was in the back group of 7 yachts of the convoy. On the second day formation drills and action on attack were practiced. Late that day a fast moving skiff appearing from behind a large fishing trawler right alongside our boat and unsmilingly begging. I was at the helm and looked up from the instruments and it had just appeared as if by magic. I hit our alarm, our doorbell that plays 37 different versions of Chopsticks, rousing Nicolle who looked out the curtained window straight into the skiff and its aggressive eyed occupants. She freaked at what she thought were pirates. The skiff then harassed another of our group till we could maneuver our boats back and in formation about him. Another incident had a skiff race from the horizon into our group in mere seconds. It had me fully realizing my earlier mistake could have had us kicking sand in Somalia.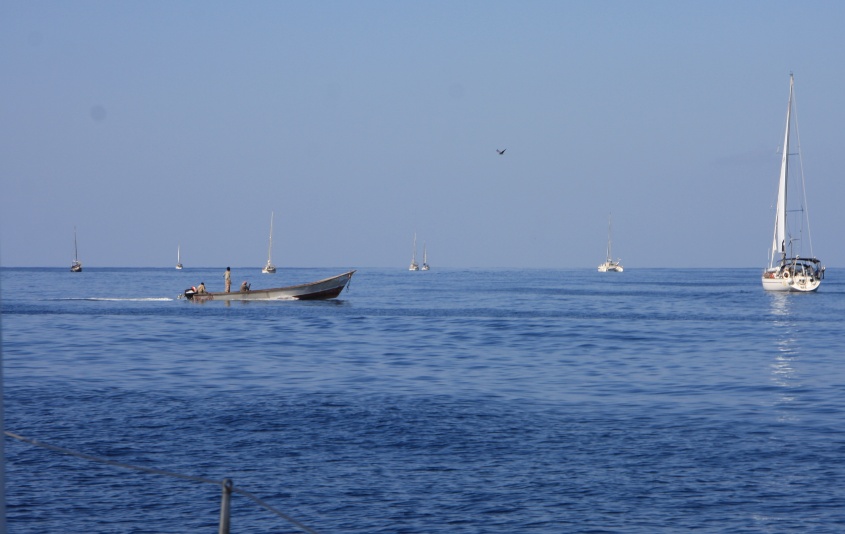 Obviously 'normal' fishermen in another approach to the convoy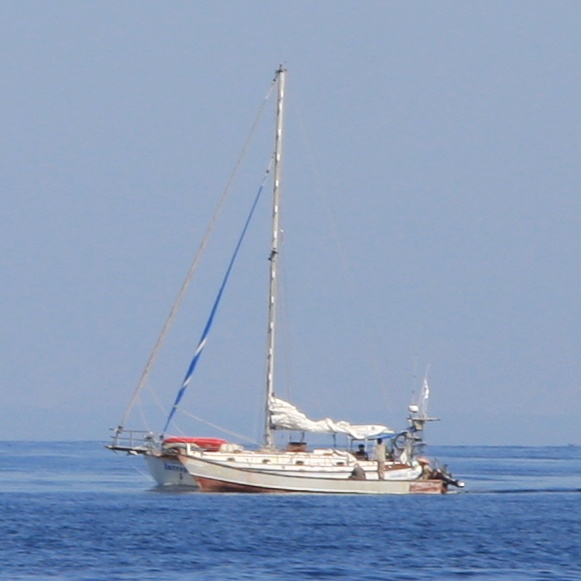 But they still single out the only solo sailor and grab hold of his boat. 3 against 1 with the rest of the convoy out of range to help.
One of the other convoy suggested solving these situations by giving out cigarettes. It was an indication that there seemed to be vastly different perceptions of the seriousness of our undertaking. Any of these skiffs may have been innocent fishermen but also could have been probing our defenses seeing what sort of opportunity we present. Guns can be easily hidden.
A few boats realized that our chances lay in spotting each and every fishing skiff as far off as possible. There were eagle eyes in the convoys lead, including Wild Card, so I felt quite secure they would call anything forward seen promptly. Our 5 days were spent with binoculars glued to our eyes, and the dangerous times of first light and last light I can assure you Sea Life had 2 sets of binoculars on the horizon every moment. We may have been on the more conscientious side, but we, perhaps, were making up for some boats that didn't appear to use them at all.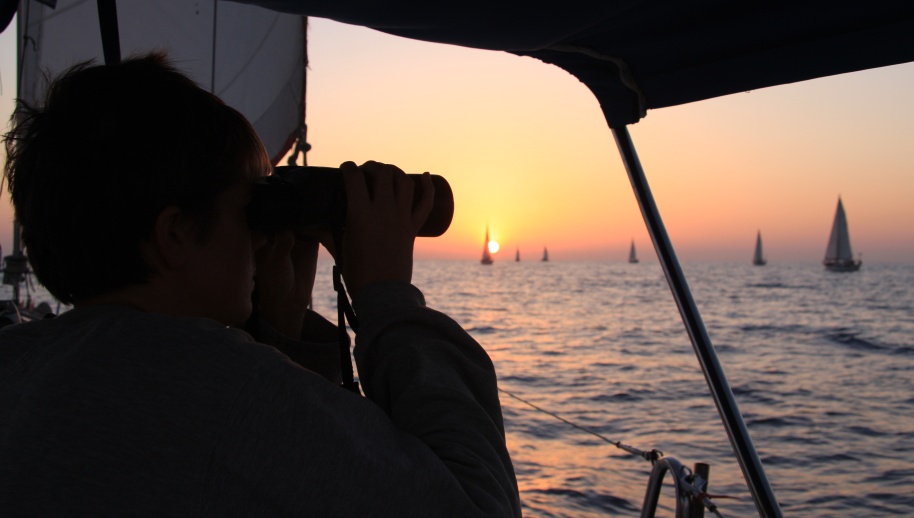 After our initial scares, our group at the convoys tail had the tightest formations of all. But even then there were stragglers. Or stragglers from the other groups. Lions chase a heard of zebra not for the fastest and fittest but for the slow, old and lame weeding out a straggler.
Yachts can be defended. Our defences were just enough to make obvious to pirates we were not the easiest catch in the fleet. I won't detail them, enough said that a terrified blank mind is wonderfully creative. However, we would have needed precious seconds of advance warning to carry out our plan. The convoy formation to close up into its more defendable 'attack' formation would have taken several minutes, our only timed test took over 9 minutes. Far too long. Remember gaining 200 meters at one extra knot above another boat will take 6 minutes, but closing port or starboard 200 meters will take just seconds as the full boat speed is used. The most dangerous times for attacks are first light and last light but these critical stages had the widest formation spacings because of a perceived difficulty in maneuvering closely. It takes that racing start-line experience to relish a bit of close sailing where a strong reliance is placed on those next to us.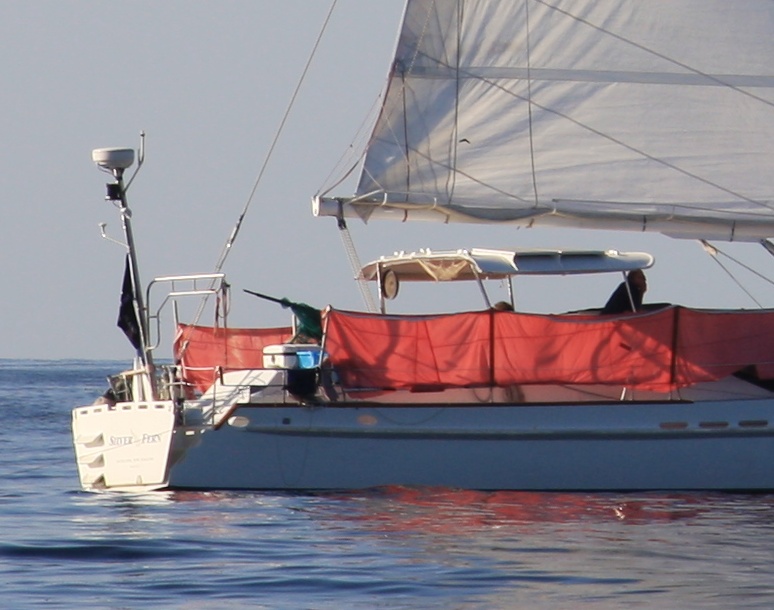 On a couple of occasions the convoy had to stop so someone could do engine repairs – 5 days sustained motoring at high revs 24 hours per day, no stopping, put a huge strain on engines, fuel consumption and peoples nerves. With no wind and adverse current we had been at 2,500 revs the whole time and that's our max cruising speed we ever use, generally we cruise at 1,800 to 2,000 rpm. With 5,000 hours on the clock I treat it gently so I will have another 5,000 hours trouble free. Inevitably breakdowns occurred, one cat lost both outboards to overheating and needed a 3 day tow, others trouble with fan belts and batteries cooking. During these stops at least 2 boats crews jumped in for a swim! This included a father and his 2 toddler children. Any attack and they surely would have been extremely vulnerable.
The complacency amongst some people seemed to be on the edge of a paranoia of having to conform, where my boat seemed to edge to the other side that I think of as a disciplined prevention of a credible threat.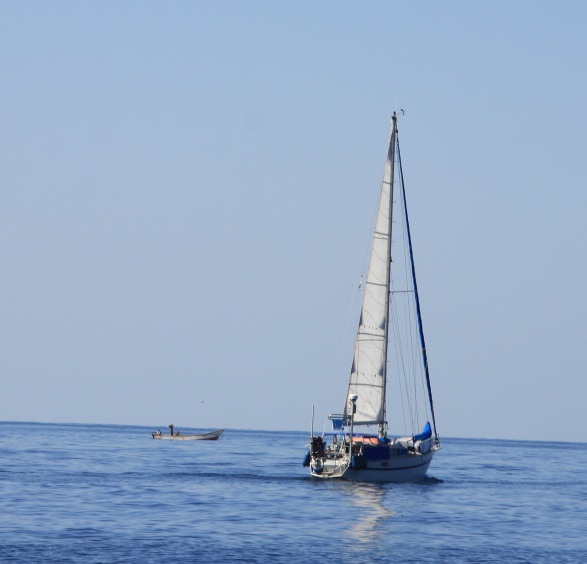 As it turned out our boat was safe in the convoy, and always would have been safe. Why? Because we were protected by those that strayed, swam and swaggered to the idea that it won't happen to us. Am I cynical, callous and close to an idiot? If captured you not only lose the boat and everything you have made, but your whole family loses all their money too. Well one convoy boat even had a Fender Step invitingly on their swim platform.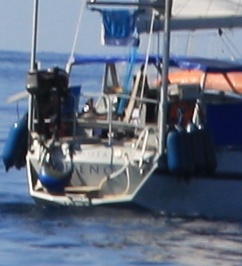 I can only think that by the time people are cruising this neck of the woods they have been away for maybe 5 to 10 years. Quite a few for longer. Perhaps so long away from daily newspapers have kept their perspective different to those newer? After 5 days and 2 incidents within 20nms of the convoy it headed into Aden and we left them at the fairway at dawn when everyone got tangled in fishing nets. Our was now to creep the last hundred miles to the safety of the Red Sea. All I know is that the pirate threat overshadowed some marvelous sailing, sea life and exciting landscapes, people and cultures. Anything we missed we can pick up again next lap when things are under control. I am glad we are now safe in Egypt walking barefooted in the Sahara by a remote Oasis at sunset, and I thank those that took it seriously, I thank Nicolle, she showed real courage during 'incidents' and when she was on watch commanding our boat alone. I thank the most wonderful boat ever to allow me to tread her decks: Sea Life.
Passage route to Oman keep out of area Maldives intersecting with route of ships from bottom of Sri Lanka/Asia. See pirate activity in Indian Ocean at the intersecting point. . Dec 2009, Jan 2010, 2 in March 2010 and earlier 2009.
*Reference: Best Management Practices to Deter Piracy in the Gulf of Aden and off the Coast of Somalia (Version 2 - August 2009) Page 17 3 c. ii "Ships should avoid entering Yemeni Territorial Waters (YTWs) while on transit. This is for reasons of customary international law, as it is not possible for international military forces (non-Yemeni) to protect ships that are attacked inside Yemeni TTW."