Looking for Female Crew
I found out its more fun with someone than by myself!
"Sea Life" is a happy boat with a happy, single, guy who is not 'alone' or 'lonely' I'm just looking for a platonic friend to come exploring the Caribbean.
I have space on the boat and no friends booked in for the next 6 months and would like the company of a female who is adventurous, fun, fit and intelligent.
Why? Because I love the vivacity and adventurousness of some types of people.
I am in Grenada now and will be hitting the northern end of the hurricane safe zone in October and heading north from November as soon as the hurricane season finishes. Likely to be in St Barths for Christmas/New Years Eve.
Yes its free, but the person needs to fork out for their own expenses and not be afraid of hitting a restaurant sometimes. OK, everyone is afraid of St Baths restaurants - one friend said the cheapest bottle of plonk at the place they parked their bums was 200 Euros! So we donít do those! If you can budget US$30 per day you'll be fine.
Its more tourism than hard sailing... OK there's no hard sailing
Anyway, if you fit the bill and you want to know more have a close look at my whole website and then contact me by the contact form.
Start when you like, leave when you like, and there's opt out points along the way.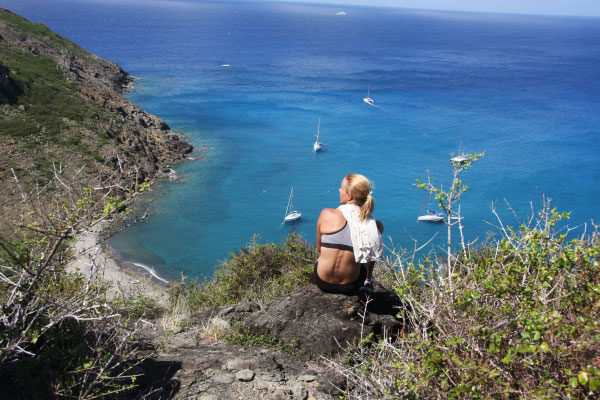 Nat takes a breath after a pretty steep climb to the summit at Isle Fourchue, a deserted island.
The Crew Cabin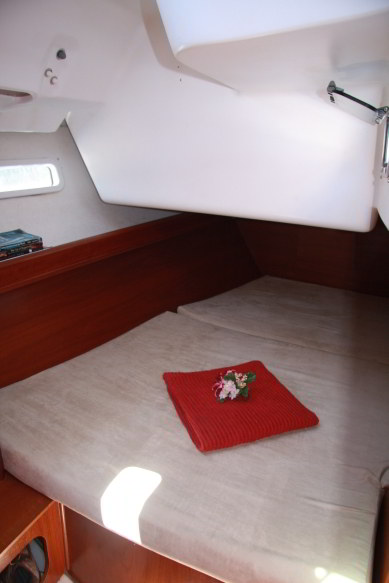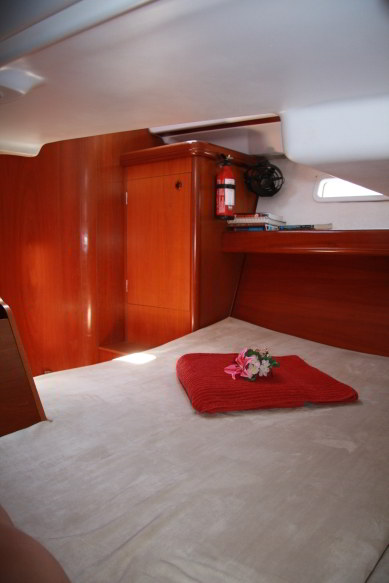 OK, OK, it doesn't look as good as this! There is a lot of stores in this cabin too, securely strapped out of the way. The usable space is in the upper photo. Theres wardbobe space... but draws? You'd think a male designed boats. The bathroom is slightly forward.